Greetings readers!
After a couple of weeks or so taking care of wrapping up the fall semester, I have embarked on winter vacation in my other home near Portland, Oregon --Whew!. While my thesis field area is in the eastern Sierras of California, I think its time that I post some geologically noteworthy photographs in the area where I spend most of my time, in the National Capital Region of Canada. These photographs were taken on fieldtrips as a part of an introductory geology course that I was honoured to serve as a teaching assistant.
Glacially-carved "rat-tail" near the Cantley Quarry, north of Gatineau, Quebec. A relatively resistant xenolith within less resistant marble (both of Grenville affinity) provides good information regarding the trajectory of glacial ice movement from the Laurentide Ice Sheet. In this photo, the ice moved right-to-left.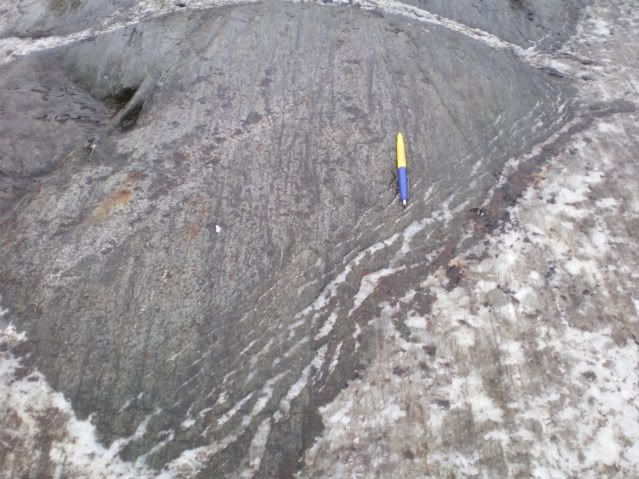 Glacial striations in both the xenolith and the enclosing marble from the Cantley Quarry. The right-margin of the xenolith resembles "slicken-fibres." Unsure if it was from the glaciations or from the Grenville orogeney (thoughts?) Yellow-part of the pen points in the direction from where the ice flowed.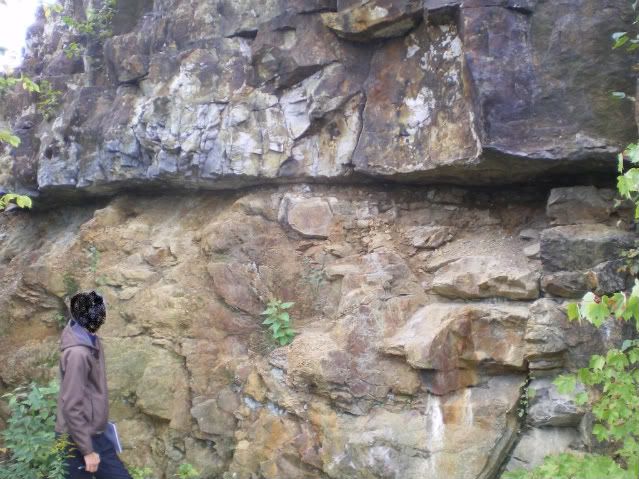 Photo showing an unconformity between the Precambrian Grenville gneiss, below and the Paleozoic Nepean Sandstone above nearby. The gneiss is ~1 Ga (billion years old) whereas the Nepean sandstone is ~500 Ma (million years old). Thus, about a half-billion years of earth history in the Ottawa Valley is missing. Photo was taken beside a road in Parc Lac Beauchamp in Gatineau, Quebec.
Have a great holiday!
All photos (c) by Cole Kingsbury